Impact of RevOps on customer retention & reducing churn.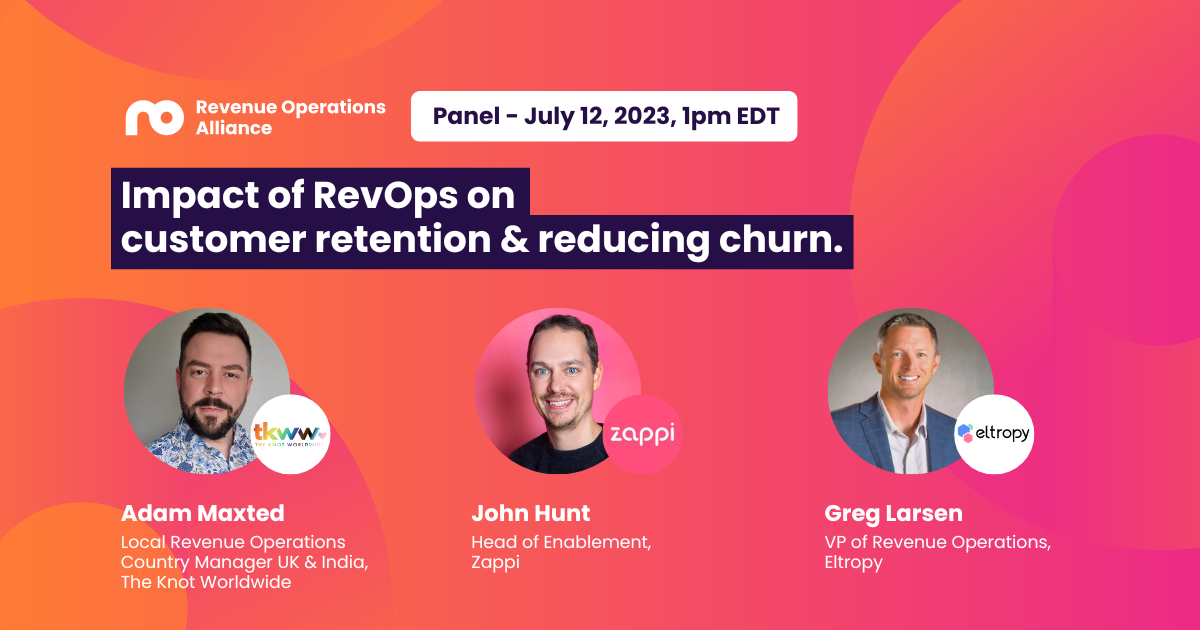 Join us on the 12th of July for a captivating panel discussion on the "Impact of RevOps on customer retention and reducing churn." 💡

Prepare to gain valuable insights and practical takeaways that will empower your organization to thrive in today's competitive landscape. 🎉
Key themes of the panel:👇

RevOps as the driving force behind departmental productivity and customer-focused service:
Adam Maxted, a RevOps expert, reveals how RevOps drives departmental productivity and customer-focused service. Uncover the secrets to enhancing sales, boosting renewals, and reducing churn.

Maximizing efficiency and productivity in a challenging economy:
Join John Hunt as he highlights the importance of maximizing efficiency in challenging economic times. Discover how RevOps empowers sales and customer service functions to achieve more with less. Gain insights into upskilling your team and future-proofing your organization against market fluctuations.

Structuring Customer Success Ops within RevOps, defining KPIs, and leveraging processes/automation for customer retention and reducing churn:
Explore strategies for integrating Customer Success Operations into RevOps and optimizing its structure, with Greg Larsen. Gain valuable insights into identifying impactful Key Performance Indicators (KPIs) for RevOps to track retention and churn rates. Discover the power of leveraging processes and automation to maximize customer retention and minimize churn.
Book your calendars 🤩

📆 When? July 12, 2023
⏰ What time? 1 pm EST / 6 pm BST
📍 Where? Live on Demio

About the speakers 💡

Adam Maxted
Local Revenue Operations Country Manager UK & India, The Knot Worldwide
Adam Maxted is a highly experienced Revenue Operations Country Manager for the UK and India at The Knot Worldwide, a leading wedding vendor global marketplace. With over 15 years of experience in customer-focused commercial services and business operations across various industries including advertisement, banking, and manufacturing, Adam brings a wealth of knowledge and expertise to his role. In addition to his professional achievements, Adam is also dedicated to giving back to his community. He volunteers as a support group lead for Mind and is a qualified life coach. Adam is currently pursuing a degree in counseling. Adam has also held events to raise awareness for the struggles of the LGBTQIA+ community.
John Hunt
Head of Enablement, Zappi & Revenue Operations Alliance's Brand Ambassador
John stumbled into Enablement the same way many of us did; through living the sales experience. After spending 15 years in sales working for big companies like Pepsi, Paychex, and Kantar, John made the pivot to Enablement. For the past 3+ years, John has grown from a one-person Enablement function at Zappi to leading a team of four globally.
Greg Larsen
VP of Revenue Operations, Eltropy
Greg Larsen is the VP of Revenue Operations at Eltropy, a leading digital conversation software platform for financial institutions. He is responsible for driving revenue growth and optimizing GTM processes through data-driven insights and innovative strategies. Prior to joining Eltropy, Greg spent 15+ years in Sales and Revenue Operations at Qualtrics, NUVI, Lingotek, and consulting for others SaaS organizations, where he played a critical role in building and scaling their revenue operations and sales strategy. With experience in sales leadership and revenue operations, Greg has been a key player in four successful exits, and is a frequent speaker and thought leader on the latest trends and best practices in revenue leadership.
Don't miss this opportunity to revolutionize your revenue operations. 🎉