Revenue Operations Alliance was founded in January 2023 to provide a new approach to 'community' in the RevOps space. A platform to connect, engage, learn, and challenge - ROA aims to give you what you need, all in one place.
Our values: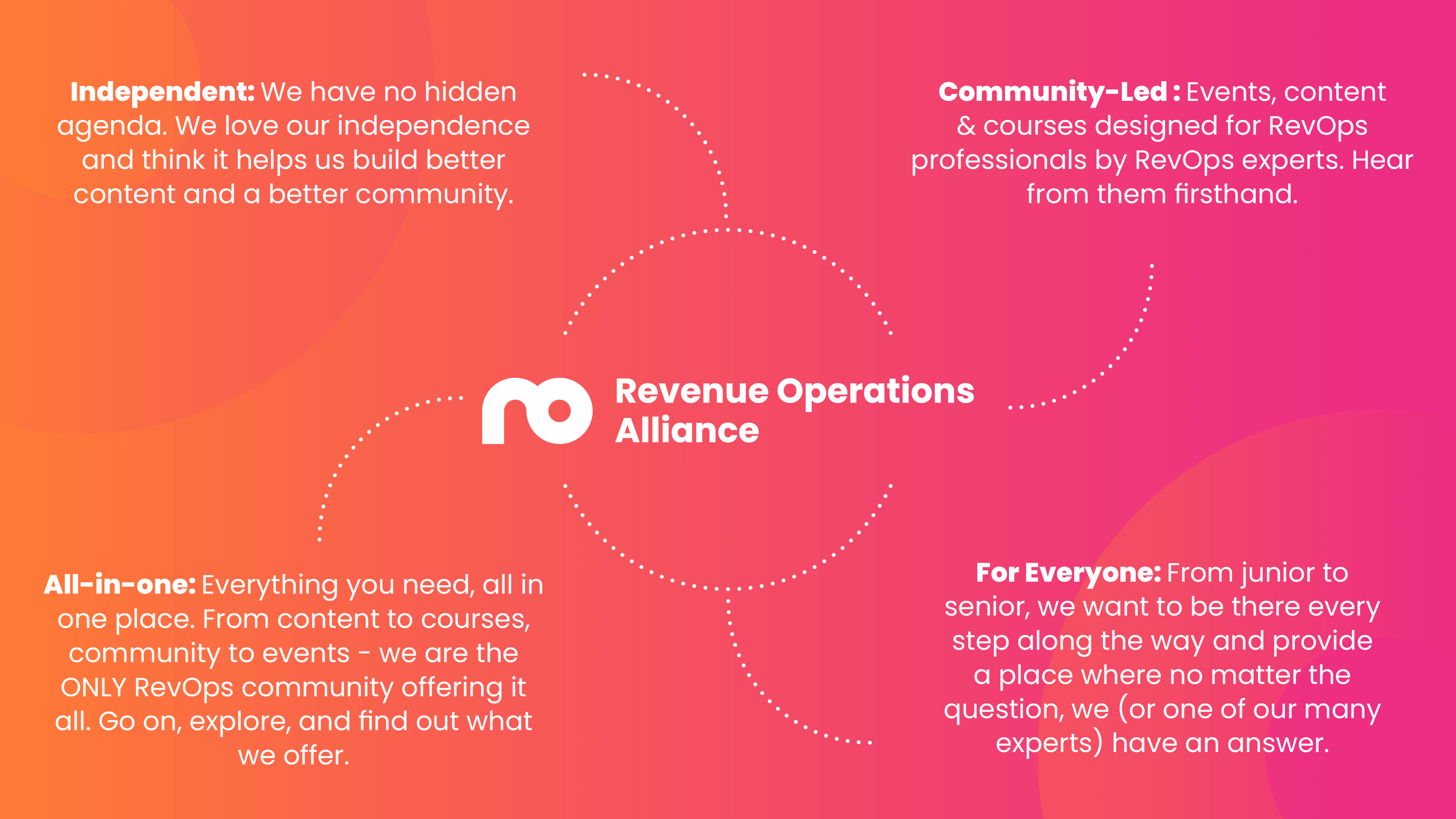 We talk a big game, so how do we do it?
We're young and growing, but we've come a long way in a short time, and the only way is up 🚀
🌎  Our Slack Community grows daily, offering a place for all RevOps professionals to connect. Ready your RevOps puns, scribble down your forecasting questions - this community is the place to share it all.
🗞  Our weekly resources, podcasts, and newsletters use the latest research direct from experts to keep you up to date with the latest information and insights about your industry.
📈  Our membership packages offer all the learning and development you need to develop your career and continuously evolve your knowledge.
🎫  Our events (virtual and in-person) unite countless RevOps professionals ready to discuss, listen and learn from leading industry experts and panels.
📐  Our reports use real-time data to delve into the industry's hottest topics, forecast trends, and delve into the big stuff to give you the inside scoop on all things RevOps.
🎒 Our courses make sure you never miss a trick, taught by the best in the industry, giving you real-world lessons and putting you a step ahead of your competitors.
The Alliance is the world's most forward-thinking professional development platform for high-growth organizations and individuals worldwide.
Through market-leading accredited courses, unrivaled membership plans, industry-shaping reports, thriving communities, and first-class events, it's redefining the way companies access education and scale.
The Alliance ecosystem also includes these other brands: Product Marketing Alliance, Sales Enablement Collective, Product-Led Alliance, Future of SaaS, AI Accelerator Institute, Customer Success Collective, CMO Alliance, B2B Marketing Alliance, and more.

Want to get involved?

For sponsorships & partnerships
For individual content collaborations